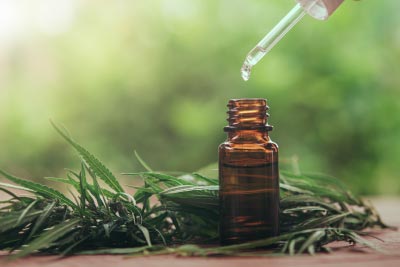 What is CBD?
As a natural remedy, Cannabidiol is one of the key extracts from over 100 found in a Cannabis or Cannabis Sativa for the Latin speaking among you. More commonly known as CBD worldwide, its legality and uses are debated widely on a global scale.
While many consider Cannabis as the drug that gets you 'high', CBD, which can be bought as an oil or even used in vaping, does not contain the psychoactive cannabinoid Tetrahydrocannabinol (THC) known for this. Dosages range between 20mg and 1,500mg a day depending on requirements.
Why Take CBD?
There are many reasons for deciding to take CBD, which depends based on your medicinal purpose. Some take CBD to boost productivity, while studies suggest it can reduce the chances of a seizure. While there is still research to be done and the results vary from patient to patient based on the products you buy and quantities are taken, other reasons it's popular include:
Studies show it can lower the incidence of diabetes, based on animal testing results
What is a Safe Dose of CBD?
Generally speaking, results for a safe dose of CBD range from person to person. You have to consider the reason you wish to take CBD in the first place, and whether it will benefit you long term. Too much could cause difficulties, in particular, if you're taking other medication as well. It also depends on how you take the substance too, with different methods to suit your preference, including:
Orally with tablets.
Vapourised with E-Cigarettes.
Lotions or creams
Edibles
Remember to be patient and not take too much at once. It can generally take between two and six hours for the effects to kick in. Another safety tip is to take your CBD dosage just before bed because it is known to cause side effects such as drowsiness.
Known Side Effects of Cannabidiol
While CBD receives plenty of positive coverage in medical journals and the media, it has reported side effects like any oral drugs. As a consumer of any product, you have to balance whether it's worth the risk. For some individuals with underlying medical issues, hesitation and trying the unknown with less testing or research plays a role in CBD consideration. Because it's a smaller market – at least with medical approval – the list of side effects can be wide-ranging and not always verified. Examples of this include:
Therefore, if you ever consider taking CBD, consult with your doctor about the safe dosage. For example, you might even have an intolerance to CBD that you were not aware of, so it definitely needs to be checked beforehand.
How to Measure the Correct Dosage
Initially, you want to ensure you have sourced the right product that meets the Cannabis Trade Association guidelines. Once that's sorted, again consider your symptoms and desired effect. It's noted by many doctors and medical experts that if you decide to take CBD, start on a smaller dose and work your way up to the correct dosage, avoiding further complications.
After considering all factors such as weight, height, age, potential health conditions, you're on the right track for starting your CBD journey. If you want to stick with the safest method in terms of measurements, capsules have pre-calculated dosages. But to get the right quantity for the individual, CBD oil or vaporiser liquid could be the way to go.
Verdict
There is no ideal best dosage, because each person may have different requirements. CBD is still not thoroughly researched, and for that reason, it's important to source and use the right product if legalised in your country. However, if CBD is permitted, you do not want to overdose or cause further damage. Always look carefully before purchasing, especially if buying online.
Following that, it's important to measure the correct dose to improve safety. Doing so can be tricky, in particular when first starting to use CBD products, so consulting with a specialist is the ideal route, at least initially. There are plenty of online resources, including weight indexes that can help to narrow your search and avoid complications.
After starting with a smaller dose and building up to the required strength based on all medical factors, hopefully, you will begin to see the desired results.